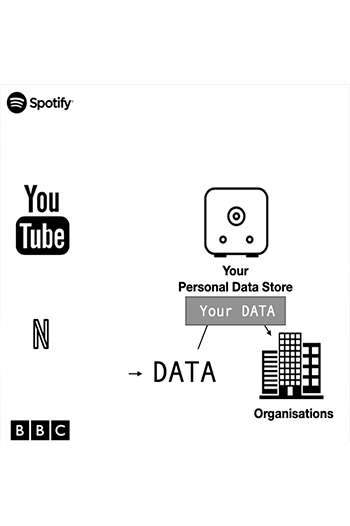 Design of 'Data Dialogues' in Media Recommenders
Media recommender systems have been one of the flagbearers for the turn towards using personal data to enhance media experiences. From collaborative filtering and content-based recommenders, to demographic, knowledge based, context aware and social recommenders – the variety is diverse.
While this shift towards data-centred recommendations are often seen in a positive light, it also introduces a number of social and technical challenges around the use of personal data, which warrant attention.
Here, trust, privacy, transparency, control and accountability are highlighted as challenges to be considered. These challenges are further unpacked in detail in other research exposure, bias, and sabotage (Lam, Frankowski and Riedl, 2006), legal, social and ethical (Sailaja et al., 2018), filter bubbles and echo chambers (Sailaja et al., 2019) and  multi-dimensional accountability concerns (Sailaja, 2020).
Hence, there is the opportunity for further exploration of design responses that speak to these challenges, thus helping alleviate them. Research has highlighted the effectiveness of a 'data dialogue' – the possibility of an ongoing conversation around data through the use of the service – (Sailaja, 2020) in this context. However, a tangible version of this 'data dialogue' for a media recommender is yet to be realised. Our project will explore this opportunity by studying the possibility of using design in the making of effective audience 'data dialogues' within media recommenders.
The research uses a  new prototype of a  media content discovery service built on a personal data store that allows the user to 'link' ( import copies of ) their media profiles and associated data (e.g., viewing history, playlists) from different digital media platforms such as Spotify, Instagram and BBC. This allows them to create and control their own combined media profile to retrieve recommendations based on their personal media interests across different digital media platforms.
In line with our long standing partnership with BBC R&D – which previously explored the idea of including a Personal Data Store similar to that of the DataBox (Amar, Haddadi and Mortier, 2016) to produce design interventions, such as the BBC Box and the Living Room of the Future – this project includes the principles of HDI.   HDI is an interdisciplinary, emergent sub-domain that derives inspiration from multiple disciplines to devise data sensitive responses within technologies through three core values: legibility, negotiability and agency. The project realises these HDI principles through the use of the Personal Data Store and other accompanying design decisions.
While the findings are primarily expected to contribute to the future design of data legibility and negotiability into media recommenders, they would also be significant to research in a variety of  other domains working on the design and adaptation of next generation services that use Personal Data Stores.
References:
Lam, S. K. "Tony", Frankowski, D. and Riedl, J. (2006) 'Do You Trust Your Recommendations? An Exploration of Security and Privacy Issues in Recommender Systems', in G., M. (ed.) Emerging Trends in Information and Communication Security. ETRICS 2006. Lecture Notes in Computer Science. Springer, Berlin, Heidelberg, pp. 14–29
Sailaja, N. et al. (2018) 'Explicating the Challenges of Providing Novel Media Experiences Driven by User Personal Data', in Proceedings of the 2018 ACM International Conference on Interactive Experiences for TV and Online Video. ACM
Sailaja, N. et al. (2019) 'The Living Room of the Future', in Proceedings of the 2019 ACM International Conference on Interactive Experiences for TV and Online Video. ACM, pp. 95–107. Available at: https://dl.acm.org/citation.cfm?id=3323360 (Accessed: 19 November 2019)
Sailaja, N. (2020) Understanding the Challenges of Using Personal Data Use in Media Experiences (Currently In Minor Corrections). University of Nottingham.
Amar, Y., Haddadi, H. and Mortier, R. (2016) 'Privacy-Aware Infrastructure for Managing Personal Data Personal Data Arbitering within the Databox Framework', Proceedings of the 2016 conference on ACM SIGCOMM 2016 Conference, pp. 571–572.
Tags:
data
,
design
,
media recommenders
,
personal data
,
privacy
,
trust
,
trusted