hoRRIzon 2.0 – an introduction
April 2022 saw the start of a new phase of the hoRRIzon Responsible Research and Innovation (RRI) project – hoRRIzon 2.0. We were delighted to receive support from Horizon to continue our work to develop and embed approaches to Responsible Research and Innovation for researchers in digital innovation projects and beyond. This builds on the work of the previous hoRRIzon project conducted between April 2021 and March 2022.
The initial scoping work of the hoRRIzon project identified several areas to focus on around RRI which now form the basis of the work for hoRRIzon 2.0 From our interviews we were pleased to find that conducting research responsibly was very important to all those we spoke to and was seen to have a number of benefits. However, they also perceived the need for a variety of resources and support, to enable the implementation, monitoring and embedding of RRI in research projects. This was supported by the outcomes of our project case studies, which highlighted timing as being of central importance. For example, there was a need right from the start, and throughout the project, for processes and tools to help the team to anticipate, reflect, engage and act. Our case study participants valued the use of the Moral-IT cards, however highlighted the importance of tailoring their use to fit into the limited time available in relatively short-term, e.g. 12 month research projects.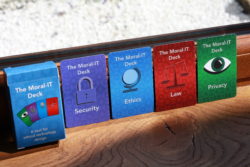 Building on our positive experience with cards, the hoRRIzon project is pleased to announce the first public open-source release of the Cardographer web platform[1] which provides support for the complete end-to-end life cycle of card-based activities. First, decks of cards can be rapidly prototyped using a simple spreadsheet of card definitions. New and existing decks of cards can then be imported into collaborative online "sessions", which can take place in either the Miro collaborative whiteboard web tool or in the Cardographer Virtual Tabletop[2]. The session, which includes the cards used, is then saved in the Cardographer platform. Finally, the session owner can generate simple visualisations of multi-session card use, or export card use data for external analysis. A hosted version of the Cardographer platform is also available for Horizon and TAS Hub researchers to use; please contact the team for details. The platform is being further developed in this new project to allow a larger range of analyses, including more details from a single session.
The hoRRIzon 2.0 project is continuing to support several of the current Horizon and TAS Hub projects in their RRI activities. This includes a new RRI kick-start activity, introduced to provide support to researchers right from the initial idea and proposal development stage of projects. This activity has been run as part of the project development/sandpit process, and more specific prompts in the internal proposal form aim to ensure that RRI is considered right from proposal development. We also developed a first version of a "high level" RRI card deck, which can be used by projects to self-assess their current state with respect to RRI. The aim of this new set of cards and associated activity is to help project teams identify specific follow-up activities and allow them to effectively prioritise work on RRI. We are starting to pilot this with the project's Advisory Group and individual projects, and plan to make a public version available soon.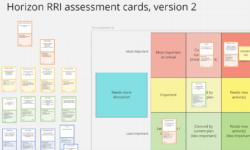 Reflecting on the first phase of hoRRIzon – assessing our own RRI practices – we observed that we needed to expand our engagement with members of the public and involve them in new ways other than as recruited research participants. Consequently, a further goal for hoRRIzon 2.0 is to develop engagement activities and mechanisms that connect research projects to members of the public around more formative RRI questions. We have discussed strategies for doing this, and agreed to focus on brief, light-weight, reproducible and transferable activities. We envisage these to be short, specific and interactive, for example, as a walk-up stand at a public festival or as a scheduled interactive presentation. We see opportunities in linking this to existing artistic and creative industries activities, and as such are working with the TAS Hub's Creative Strand. We are keen to discuss these ideas further with other researchers, members of the public and other stakeholders and welcome people to get in touch. Please email Virginia Portillo.
[1] https://github.com/MixedRealityLab/cardographer-platform
[2] https://github.com/MixedRealityLab/cardographer-tabletop
Tags:
Cardographer
,
Moral IT cards
,
responsible research
,
RRI
,
TAS hub