Open Food features on 'Click' – the BBCs flagship technology programme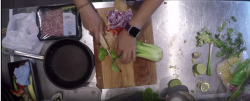 The Open Food project – Prototyping Open Innovation Models for ICT-Enabled Manufacturing in Food and Packaging featured on Click – the BBCs flagship technology programme on the 23rd September 2017, in a broadcast about 'gastronomic gadgets'.
Professor Sharon Baurley highlighted the work of researchers from the Royal College of Art and Horizon at the University of Nottingham, capturing family recipes by analysing videos of visitors preparing food and collecting data from accelerometers attached to cooking utensils.
A link to the broadcast can be found here (13.50 minutes in).