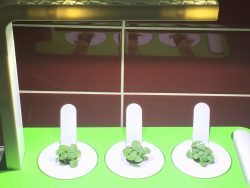 The Growing Data project was a collaboration with Royal College of Art to explore the concept of using plant growth as a means to store and display data. Translation of raw data from personal sensors to plant growth is feasible via control of light, water and nutrition, as facilitated by modern hydroponics systems. This process insures that data cannot be reverse-engineered and is stored and displayed at low granularity, which is desirable for many types of personal data. As a feedback interface, the state of a plant can be seen, smelled and tasted, is inherently emotive, and integrates easily into the home.
Worrying trends in lifestyle related issues such as obesity, stress and depression suggest we are not so good at looking after ourselves. A range of products such as Fitbit have emerged with the promise of revealing insights into the user's activity through quantified measurement and informatics. These devices promise to help change users' behaviour for the better. However, some users find it difficult to engage with the way that these devices present their data, or to remain engaged in the long term. Our research considers living plants as an alternative means of representing and encouraging engagement in that data.
Growing has been shown to help relieve stress and improve mental health as well as providing aesthetically pleasing plants and healthy food. This project has used participatory design workshops to allow the public to explore the value in connecting house plants with their personal data, creating new forms "natural" feedback, allowing care for living plants to motivate improving lifestyle and ultimately wellbeing.
Our results reveal how non-technical participants appropriated personal data in their connected plant designs, the extent to which they believed their designs might help them achieve wellbeing goals, and their response to the idea of sharing their connected plants with others.
An overview of our workshop as part of the V&A Digital Design Weekend 2016 can be found in the online Engineering the Future publication.
An evaluation of the themes and implications that emerged from the project has been accepted for publication and presentation at the ACM SIGCHI Conference on Designing Interactive Systems (DIS) 2017.
Ideation worksheets and cards were developed for the participatory design workshops.

Growing Data PD worksheets and cards by Horizon Digital Economy Research is licensed under a Creative Commons Attribution-NonCommercial-ShareAlike 4.0 International License.
Based on a work at http://www.horizon.ac.uk/project/growing-data/.