TalentLab update
Take a look back at some of the  TalentLab updates  from 2017 – these include the work of  Nosa Eke, Lula Mebrahtu and Lwimbo Kunda, who attended residencies and were supported by mentors from the Mixed Reality Lab and Horizon Digital Economy Research, University of Nottingham.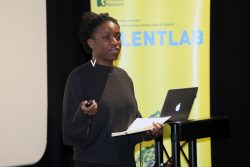 Lwimbo Kunda's (TL 2016)" Dem Belly Full", a 360° virtual reality project, is currently in experimental stages. Playing with VR, it is now going onto the next phase of prototyping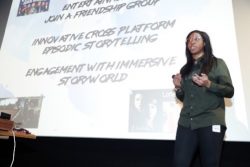 Nosa Eke's (TL 2016) web series, "This Young Moment" will be going through further development with us at B3 in 2018. Currently, in the process of workshopping the script with actors, Nosa's web series explores the lives and events of its characters through the many lenses of social media.
Lula, (pictured below) is carving out a career for herself as a multidisciplinary Artist, headlined the first Afrotech Fest in January: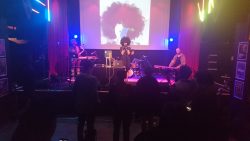 Lula Mebrahtu's (TL 2016) "LulaBOX", an immersive, digital live art performance project is now developing and prototyping. Lula completed her residency at the Barbican in 2017, and in January she headlined Afrotech's rst festival weekend.
"My visit to MRL was inspiring! I had never considered having a 3D model created for the installation until I spoke to Holger Schnaedelbach. Having someone like Amy Dickens working with me on the logistics and being able to politic the technical issues together has been expanding my knowledge base around the tech I am using and others I might want to incorporate".